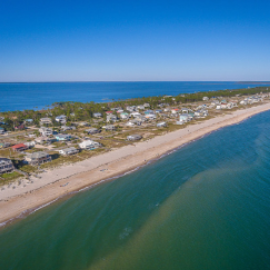 St. George West Gulf Beaches Vacation Rentals on the Gulf of Mexico
The West Gulf Beaches offer a variety of beach rentals, from luxury homes to relaxed cottages. With a wide selection of beachfront, bay front, canal front, and private, island interior home, your family will find the perfect vacation getaway.
Public right-of-way's between beachfront lots, as well as at the end of each street, provide easy access to the miles of beautiful white sand beaches from any vacation home in the Gulf Beaches area. Additionally, West Gulf Beaches offers convenient access to the Island's restaurants, shops, and grocery stores. Walk or ride along the 6.3-mile bike path to the Cape St. George Lighthouse and Museum, located in the heart of the Island.
Search West Gulf Beaches Neighborhoods: The Villas
More About West Gulf Beaches in St. George Island Florida
Walk the beach early in the morning to watch a beautiful Island sunrise, and, if you are really lucky, you might see the tracks of a sea turtle having laid her nest, or her hatchling's tracks on their way to the sea!
Come and create those family memories! They will last a lifetime. You will want to come back and do it all again soon!